In today's issue, I'm sharing 5 Productivity Hacks that can save you hours of manual tasks, testing, or just searching for assets.
I've been working on Salesforce Marketing Cloud for years … and when it comes to fast delivery, you need Tools, Methods, and Discipline.
Let's dive in!
#1 Package Manager
If you're working with Multiple Business Units and need to move assets from one BU to another, meet your best friend.
You can create Packages for Journeys, Automations, Campaigns, Emails, and so on.
It's usually used by integrators when moving assets from a sandbox to production org, or as said before in a multi-BU context.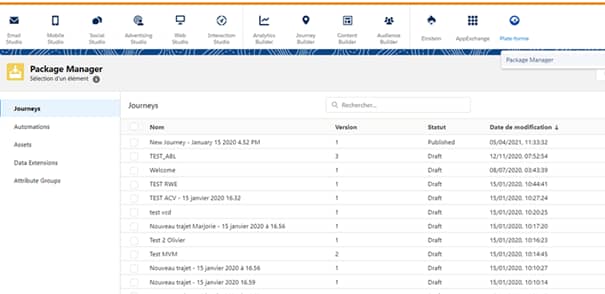 You can learn more here.
#2 Query Studio
This is a Free AppExchange by Salesforce Labs.
It's meant for those who use queries and provides an environment to run queries within Salesforce Marketing Cloud as if you had an integrated MySQL workbench.
You can validate your query against a target data extension, saving you hours.
#3 Use Email Templates
You can start with provided templates and then build yours.
They'll appear in the "Saved" Tab.
However, I know some prefer to use HTML only. Or create elsewhere and Paste HTML.
But we all know how urgent a Friday evening email blast can be… for some reason, you could have to deal with it with a newbie. Somebody still learning Email Marketing.
What would be easier?
Drag-and-dropping Content Blocks? Or writing HTML?
Hope it helps find great jobs!
#4 Tags
That's a common mistake.
Nobody uses Tags.
You can use Tags to better track Campaigns by typology, target, or whatever you need.
One way to be more efficient is to be able to classify stuff.
Tags are easy to use.
You can define a name.
You can define a color.
And be able to identify quickly in the calendar which kind of campaigns are scheduled; easily filter emails.
#5 Efficient Taxonomy for Data extensions and Content
Have any of you ever considered the need for a DAM in Salesforce Marketing Cloud?
If you work with a company using SFMC for 3 years or more, you'll likely find a real mess when searching for Data extensions or Content.
Of course, you can use some of the tools I already listed here to find them faster.
But you can also define naming rules and specific folders.
This one is very easy to implement and one of the simplest things to earn your employer's trust. When everything is clean and well organized, trust comes as a by-product.
That's all for today.
See you next week!
Other ways I can help you: