Let's make it clear: it's nearly impossible to stand out as an Salesforce Marketing Cloud expert if you're using only standard features.
How do you stand out?
That's what high daily rates should imply.
Great Professional = Skillset + Toolset
Every professional comes with his own "weaponry"…
However, whereas you will build some personal assets throughout experience and projects, there are some tools you can use for free!
Amongst them, I curated 4 Silver Bullets for you!
"Where is that *** Data Extension?"
Any of us said that within the first week on Salesforce Marketing Cloud Engagement!
Searching for Data Extensions, but also Queries or Data Filters can be painful.
It shouldn't be… but it is.
Let's end that nightmare now:
With DESelect Search Chrome Extension you'll be able to easily search for SFMC objects, of any kind! You won't be limited no more to a per-folder search…
And cherry on the cake, DESelect Search is also available on the Appexchange.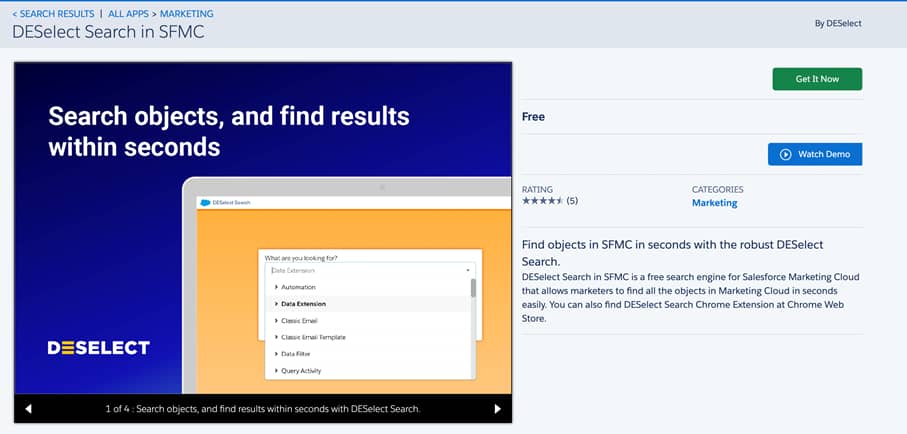 Another Chrome Extension, and this one is brought to you by Cameron Robert!
You know that feeling?
When you're about to change a query or an automation?  That moment when you hope you checked correctly the possible impact? That moment when you save… and then wait… Expecting a call at any time because "something" is broken…
You can forget it now.
SFMC Companion shows you all the relations between objects: Data Extension and Queries, Queries and Automations, etc.
When working on a "live" environment, I strongly recommend to install the Chrome Extension… it is one of these tools that may save your professional life!
Best SFMC AmpScript and SSJS Test Environment: MC Snippets
You don't have access to Salesforce Marketing Cloud?
Guess what… If you're using MC Snippets it doesn't matter!
You can test and share AmpScript or Server Side Javascript without having to login to Salesforce Marketing Cloud nor create emails or Data Extensions.
For now, you can only used this in the context of Emails… and that's enough to make it awesome! Can't wait for next release!
(Big up to Devs United and Pato Sapir)
Best Development Tool: bldr()
If you're a Salesforce Marketing Cloud developer, you may have searched for a Command Line Interface…
Search no more.
BLDR is a Development Workflow Management System for Salesforce Marketing Cloud.
It's an open-source project by Anthony Zupancic and you can see his presentation here:
Hope you'll give these 4 tools a shot and thrive!
Bonus
That is not an SFMC add-on but, if you're looking for a tool to help you visualize JSON into graphs, have a look at JSON Crack…
See you next week!
If you liked that content, give a review here!