These past years, certifications became more and more important in the Salesforce Ecosystem. It is supposed to prove a certain set of skills, level of expertise in concepts and methods and experience using the product.
When you were new to Salesforce Marketing Cloud a few years ago, you would take an EEB101 class, work on a couple of projects and 6 months later hopefully pass Salesforce Marketing Cloud Email Specialist certification.
Now this class disappeared. Replaced by MKT101…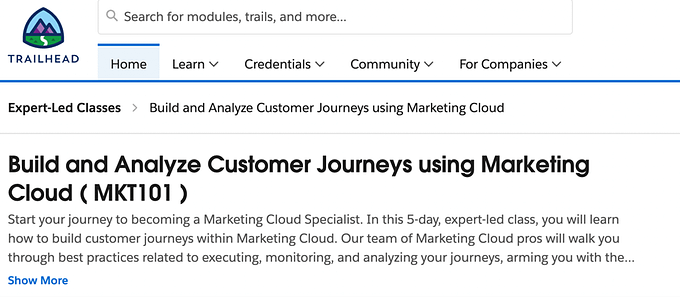 A 5-day, expert-led class. Virtual or not.
And today, newbies are directly sent from HR to this class and then to the exam within a week.
A 1-week-experience expert. That's how a lot of folks enter Salesforce Marketing Cloud world. Sometimes it's not harmless.
However, if you're willing to build a successful and fulfilling career, can you just follow the usual path?
Let's first see why beginning by this class is not enough:
Email marketing concepts: First things first, this class aims to give newcomers foundations about email marketing, deliverability, CAN-SPAM and such topics. This is valuable knowledge but honestly you can retrieve all this from Trailhead… for Free! (Take this Trail for Essentials)
Expert-led: Trainers during these classes are real, recognized experts… but they have such a holistic view that in such short time they will only help you reach level 1 in several subjects.
Certification bias: When you attend MKT101, you're getting prepared for SFMC Email Specialist Exam. Trainers know it. Sometimes I feel like you're more prepared to answer exam questions than use the product.
So! What should you do instead?
1. Pick a role:
What do you want to achieve within Salesforce Marketing Cloud ecosystem? Email marketer in Retail? Technical Architect in the Banking Industry? Project Manager in a Consulting Firm?
If you have no idea, here's a list I made:
2. Make a Plan:
Once you know where you want to go, put this target at least 2-years ahead (remember, you want to be the real thing, not any other SFMC certified dude) and then list all you need to hit your target:
Soft Skills
Hard skills
Portfolio
Experience
Network
3. Find a mentor:
There are some exceptional professionals and if you're showing motivation, interest, dedication and potential… they can accept you as a padawan. But why should you have a mentor?
Don't you like shortcuts? You can learn years of practice in a few months if you meet the right person.
4. Join a community:
The best thing about Salesforce is the large community it represents… but did you know there are communities within the Community?
Here is a list of communities you can join: